The total solar eclipse of 08/02/1133
General data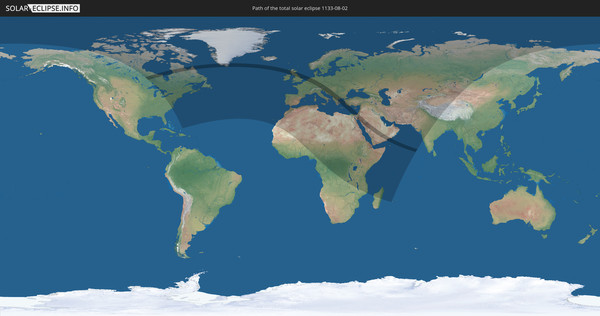 | | |
| --- | --- |
| Day of week: | Wednesday |
| Maximum duration of eclipse: | 04m38s |
| Maximum width of eclipse path: | 252 km |
| Saros cycle: | 102 |
| Coverage: | 100% |
| Magnitude: | 1.0652 |
| Gamma: | 0.5423 |
Wo kann man die Sonnenfinsternis vom 08/02/1133 sehen?
Die Sonnenfinsternis am 08/02/1133 kann man in 122 Ländern als partielle Sonnenfinsternis beobachten.
Der Finsternispfad verläuft durch 27 Länder. Nur in diesen Ländern ist sie als total Sonnenfinsternis zu sehen.
In den folgenden Ländern ist die Sonnenfinsternis total zu sehen
In den folgenden Ländern ist die Sonnenfinsternis partiell zu sehen
How will be the weather during the total solar eclipse on 08/02/1133?
Where is the best place to see the total solar eclipse of 08/02/1133?
The following maps show the average cloud coverage for the day of the total solar eclipse. With the help of these maps, it is possible to find the place along the eclipse path, which has the best chance of a cloudless sky. Nevertheless, you should consider local circumstances and inform about the weather of your chosen observation site.

The data is provided by NASAs satellites AQUA and TERRA. The cloud maps are averaged over a period of 17 years (2000 - 2017).
Detailed country maps
Cities inside the path of the eclipse
The following table shows all locations with a population of more than 5,000 inside the eclipse path. Cities which have more than 100,000 inhabitants are marked bold. A click at the locations opens a detailed map.
| | | | | | |
| --- | --- | --- | --- | --- | --- |
| City | Type | Eclipse duration | Local time of max. eclipse | Distance to central line | Ø Cloud coverage |
| Qaqortoq, Kujalleq | total | 3m 29s | 07:28:49 UTC-03:26 | 13 km | 60% |
| Glasgow, Scotland | total | 4m 22s | 11:31:17 UTC+00:00 | 13 km | 90% |
| Edinburgh, Scotland | total | 4m 16s | 11:32:28 UTC+00:00 | 28 km | 87% |
| Dundee, Scotland | total | 3m 7s | 11:32:27 UTC+00:00 | 85 km | 87% |
| Newcastle upon Tyne, England | total | 4m 25s | 11:34:55 UTC+00:00 | 14 km | 91% |
| Sunderland, England | total | 4m 25s | 11:35:14 UTC+00:00 | 13 km | 91% |
| Middlesbrough, England | total | 4m 14s | 11:35:38 UTC+00:00 | 39 km | 90% |
| York, England | total | 2m 56s | 11:36:15 UTC+00:00 | 92 km | 92% |
| Hull, England | total | 3m 12s | 11:37:20 UTC+00:00 | 86 km | 93% |
| The Hague, South Holland | total | 3m 57s | 12:04:09 UTC+00:19 | 61 km | 72% |
| Rotterdam, South Holland | total | 3m 48s | 12:04:32 UTC+00:19 | 68 km | 80% |
| Brecht, Flanders | total | 1m 50s | 11:45:48 UTC+00:00 | 112 km | 71% |
| Breda, North Brabant | total | 3m 17s | 12:05:16 UTC+00:19 | 85 km | 72% |
| Amsterdam, North Holland | total | 4m 32s | 12:04:36 UTC+00:19 | 11 km | 76% |
| Turnhout, Flanders | total | 2m 33s | 11:46:13 UTC+00:00 | 102 km | 66% |
| Geel, Flanders | total | 1m 42s | 11:46:27 UTC+00:00 | 114 km | 64% |
| Tilburg, North Brabant | total | 3m 37s | 12:05:42 UTC+00:19 | 75 km | 67% |
| Utrecht, Utrecht | total | 4m 27s | 12:05:11 UTC+00:19 | 26 km | 74% |
| Almere Stad, Flevoland | total | 4m 33s | 12:05:01 UTC+00:19 | 2 km | 69% |
| Beringen, Flanders | total | 1m 41s | 11:46:52 UTC+00:00 | 114 km | 66% |
| Lommel, Flanders | total | 2m 56s | 11:46:48 UTC+00:00 | 94 km | 62% |
| Hasselt, Flanders | total | 58s | 11:47:09 UTC+00:00 | 120 km | 63% |
| Eindhoven, North Brabant | total | 3m 48s | 12:06:19 UTC+00:19 | 69 km | 61% |
| Maasmechelen, Flanders | total | 2m 35s | 11:47:34 UTC+00:00 | 102 km | 65% |
| Maaseik, Flanders | total | 3m 17s | 11:47:32 UTC+00:00 | 86 km | 67% |
| Duisburg, North Rhine-Westphalia | total | 4m 33s | 12:48:26 UTC+01:00 | 15 km | 58% |
| Düsseldorf, North Rhine-Westphalia | total | 4m 25s | 12:48:41 UTC+01:00 | 32 km | 66% |
| Köln, North Rhine-Westphalia | total | 4m 12s | 12:49:13 UTC+01:00 | 50 km | 63% |
| Essen, North Rhine-Westphalia | total | 4m 34s | 12:48:43 UTC+01:00 | 2 km | 58% |
| Dortmund, North Rhine-Westphalia | total | 4m 29s | 12:49:13 UTC+01:00 | 23 km | 67% |
| Frankfurt am Main, Hesse | total | 4m 20s | 12:52:25 UTC+01:00 | 42 km | 61% |
| Nürnberg, Bavaria | total | 4m 34s | 12:56:19 UTC+01:00 | 15 km | 63% |
| Munich, Bavaria | total | 3m 51s | 12:58:45 UTC+01:00 | 69 km | 53% |
| Tachov, Plzeňský | total | 1m 24s | 12:57:49 UTC+01:00 | 119 km | 63% |
| Domažlice, Plzeňský | total | 2m 30s | 12:58:40 UTC+01:00 | 105 km | 58% |
| Salzburg, Salzburg | total | 4m 33s | 13:01:07 UTC+01:00 | 23 km | 45% |
| Nýrsko, Plzeňský | total | 2m 34s | 12:59:08 UTC+01:00 | 103 km | 57% |
| Klatovy, Plzeňský | total | 1m 23s | 12:59:10 UTC+01:00 | 119 km | 55% |
| Sušice, Plzeňský | total | 1m 36s | 12:59:41 UTC+01:00 | 117 km | 57% |
| Vimperk, Jihočeský | total | 1m 40s | 13:00:15 UTC+01:00 | 117 km | 53% |
| Villach, Carinthia | total | 3m 42s | 13:03:55 UTC+01:00 | 76 km | 36% |
| Prachatice, Jihočeský | total | 43s | 13:00:35 UTC+01:00 | 124 km | 51% |
| Wels, Upper Austria | total | 4m 5s | 13:01:50 UTC+01:00 | 58 km | 35% |
| Linz, Upper Austria | total | 3m 28s | 13:01:57 UTC+01:00 | 82 km | 34% |
| Klagenfurt am Wörthersee, Carinthia | total | 4m 14s | 13:04:29 UTC+01:00 | 51 km | 32% |
| Český Krumlov, Jihočeský | total | 44s | 13:01:16 UTC+01:00 | 124 km | 48% |
| Kranj, Kranj | total | 3m 36s | 13:05:08 UTC+01:00 | 79 km | 36% |
| Steyr, Upper Austria | total | 3m 51s | 13:02:30 UTC+01:00 | 68 km | 35% |
| Ljubljana, Ljubljana | total | 3m 23s | 13:05:37 UTC+01:00 | 86 km | 34% |
| Wolfsberg, Carinthia | total | 4m 37s | 13:04:50 UTC+01:00 | 5 km | 33% |
| Trbovlje, Trbovlje | total | 4m 17s | 13:06:09 UTC+01:00 | 48 km | 47% |
| Velenje, Velenje | total | 4m 31s | 13:05:55 UTC+01:00 | 29 km | 39% |
| Novo Mesto, Novo Mesto | total | 3m 52s | 13:06:51 UTC+01:00 | 70 km | 41% |
| Celje, Celje | total | 4m 29s | 13:06:18 UTC+01:00 | 31 km | 46% |
| Graz, Styria | total | 4m 18s | 13:05:15 UTC+01:00 | 45 km | 40% |
| Karlovac, Karlovačka | total | 3m 46s | 13:07:50 UTC+01:00 | 74 km | 30% |
| Maribor, Maribor | total | 4m 35s | 13:06:17 UTC+01:00 | 15 km | 35% |
| Ptuj, Ptuj | total | 4m 34s | 13:06:47 UTC+01:00 | 17 km | 35% |
| Bihać, Federation of Bosnia and Herzegovina | total | 2m 20s | 13:09:19 UTC+01:00 | 109 km | 41% |
| Zagreb - Centar, City of Zagreb | total | 4m 32s | 13:07:52 UTC+01:00 | 25 km | 38% |
| Varaždin, Varaždinska | total | 4m 27s | 13:07:33 UTC+01:00 | 33 km | 39% |
| Sisak, Sisačko-Moslavačka | total | 4m 30s | 13:08:55 UTC+01:00 | 30 km | 29% |
| Körmend, Vas | total | 2m 38s | 13:06:46 UTC+01:00 | 103 km | 36% |
| Szombathely, Vas | total | 1m 18s | 13:06:27 UTC+01:00 | 121 km | 37% |
| Zalaegerszeg, Zala | total | 2m 39s | 13:07:20 UTC+01:00 | 103 km | 35% |
| Nagykanizsa, Zala | total | 3m 31s | 13:08:07 UTC+01:00 | 81 km | 35% |
| Banja Luka, Republic of Srspka | total | 4m 25s | 13:11:04 UTC+01:00 | 37 km | 28% |
| Keszthely, Zala | total | 1m 32s | 13:07:56 UTC+01:00 | 119 km | 29% |
| Marcali, Somogy | total | 1m 57s | 13:08:26 UTC+01:00 | 114 km | 30% |
| Bugojno, Federation of Bosnia and Herzegovina | total | 3m 38s | 13:12:35 UTC+01:00 | 78 km | 36% |
| Kaposvár, Somogy | total | 1m 33s | 13:09:15 UTC+01:00 | 119 km | 41% |
| Mostar, Federation of Bosnia and Herzegovina | total | 2m 6s | 13:14:14 UTC+01:00 | 113 km | 23% |
| Zenica, Federation of Bosnia and Herzegovina | total | 4m 22s | 13:12:55 UTC+01:00 | 41 km | 28% |
| Slavonski Brod, Slavonski Brod-Posavina | total | 4m 23s | 13:11:28 UTC+01:00 | 39 km | 28% |
| Pécs, Baranya | total | 1m 17s | 13:10:14 UTC+01:00 | 122 km | 44% |
| Sarajevo, Federation of Bosnia and Herzegovina | total | 4m 22s | 13:14:04 UTC+01:00 | 42 km | 43% |
| Tuzla, Federation of Bosnia and Herzegovina | total | 4m 29s | 13:13:18 UTC+01:00 | 29 km | 40% |
| Osijek, Osječko-Baranjska | total | 2m 27s | 13:11:39 UTC+01:00 | 107 km | 31% |
| Vinkovci, Vukovar-Sirmium | total | 3m 5s | 13:12:13 UTC+01:00 | 94 km | 32% |
| Brčko, Brčko | total | 4m 0s | 13:12:55 UTC+01:00 | 62 km | 26% |
| Cetinje, Cetinje | total | 1m 26s | 13:17:16 UTC+01:00 | 121 km | 25% |
| Nikšić, Opština Nikšić | total | 3m 17s | 13:16:38 UTC+01:00 | 90 km | 24% |
| Vukovar, Vukovar-Sirmium | total | 2m 21s | 13:12:22 UTC+01:00 | 109 km | 30% |
| Danilovgrad, Danilovgrad | total | 3m 6s | 13:17:16 UTC+01:00 | 94 km | 23% |
| Podgorica, Podgorica | total | 3m 2s | 13:17:37 UTC+01:00 | 96 km | 17% |
| Pljevlja, Pljevlja | total | 4m 33s | 13:16:09 UTC+01:00 | 21 km | 41% |
| Shkodër, Shkodër | total | 2m 22s | 13:37:54 UTC+01:19 | 109 km | 13% |
| Lezhë, Lezhë | total | 1m 11s | 13:38:34 UTC+01:19 | 123 km | 19% |
| Bijelo Polje, Bijelo Polje | total | 4m 32s | 13:17:10 UTC+01:00 | 22 km | 34% |
| Užice, Central Serbia | total | 4m 16s | 13:15:53 UTC+01:00 | 46 km | 41% |
| Berane, Berane | total | 4m 29s | 13:17:40 UTC+01:00 | 29 km | 42% |
| Rrëshen, Lezhë | total | 2m 19s | 13:38:53 UTC+01:19 | 110 km | 16% |
| Valjevo, Central Serbia | total | 3m 33s | 13:15:14 UTC+01:00 | 80 km | 44% |
| Burrel, Dibër | total | 2m 4s | 13:39:20 UTC+01:19 | 114 km | 18% |
| Rožaje, Opština Rožaje | total | 4m 34s | 13:18:02 UTC+01:00 | 12 km | 54% |
| Bulqizë, Dibër | total | 2m 20s | 13:39:48 UTC+01:19 | 110 km | 31% |
| Librazhd-Qendër, Elbasan | total | 52s | 13:40:28 UTC+01:19 | 125 km | 20% |
| Čačak, Central Serbia | total | 3m 36s | 13:16:26 UTC+01:00 | 78 km | 40% |
| Kukës, Kukës | total | 4m 10s | 13:39:01 UTC+01:19 | 54 km | 28% |
| Peshkopi, Dibër | total | 3m 30s | 13:39:43 UTC+01:19 | 83 km | 27% |
| Novi Pazar, Central Serbia | total | 4m 26s | 13:17:56 UTC+01:00 | 31 km | 38% |
| Kraljevo, Central Serbia | total | 3m 22s | 13:17:08 UTC+01:00 | 86 km | 41% |
| Ohrid, Ohrid | total | 2m 44s | 13:21:51 UTC+01:00 | 103 km | 28% |
| Gostivar, Gostivar | total | 4m 18s | 13:20:46 UTC+01:00 | 45 km | 31% |
| Kragujevac, Central Serbia | total | 1m 26s | 13:16:54 UTC+01:00 | 121 km | 40% |
| Tetovo, Tetovo | total | 4m 30s | 13:20:28 UTC+01:00 | 25 km | 28% |
| Kruševac, Central Serbia | total | 2m 4s | 13:18:09 UTC+01:00 | 114 km | 40% |
| Bitola, Bitola | total | 3m 41s | 13:22:39 UTC+01:00 | 76 km | 42% |
| Skopje, Karpoš | total | 4m 34s | 13:21:02 UTC+01:00 | 2 km | 33% |
| Prilep, Prilep | total | 4m 22s | 13:22:21 UTC+01:00 | 39 km | 41% |
| Kumanovo, Kumanovo | total | 4m 26s | 13:21:08 UTC+01:00 | 30 km | 33% |
| Veles, Veles | total | 4m 34s | 13:21:57 UTC+01:00 | 2 km | 30% |
| Leskovac, Central Serbia | total | 2m 27s | 13:19:53 UTC+01:00 | 108 km | 36% |
| Lárisa, Thessaly | total | 2m 13s | 14:01:21 UTC+01:34 | 112 km | 32% |
| Kateríni, Central Macedonia | total | 4m 2s | 14:00:17 UTC+01:34 | 60 km | 27% |
| Kyustendil, Kyustendil | total | 2m 48s | 14:22:01 UTC+02:00 | 101 km | 38% |
| Thessaloníki, Central Macedonia | total | 4m 32s | 14:00:07 UTC+01:34 | 5 km | 36% |
| Vólos, Thessaly | total | 2m 53s | 14:02:28 UTC+01:34 | 99 km | 35% |
| Blagoevgrad, Blagoevgrad | total | 2m 32s | 14:22:58 UTC+02:00 | 107 km | 31% |
| Dupnitsa, Kyustendil | total | 56s | 14:22:32 UTC+02:00 | 126 km | 35% |
| Petrich, Blagoevgrad | total | 3m 49s | 14:24:12 UTC+02:00 | 69 km | 39% |
| Sandanski, Blagoevgrad | total | 3m 23s | 14:23:59 UTC+02:00 | 85 km | 34% |
| Razlog, Blagoevgrad | total | 1m 39s | 14:23:37 UTC+02:00 | 120 km | 46% |
| Bansko, Blagoevgrad | total | 1m 50s | 14:23:44 UTC+02:00 | 118 km | 61% |
| Sérres, Central Macedonia | total | 3m 52s | 14:00:01 UTC+01:34 | 66 km | 33% |
| Chalkída, Central Greece | total | 1m 17s | 14:04:55 UTC+01:34 | 124 km | 20% |
| Gotse Delchev, Blagoevgrad | total | 2m 9s | 14:24:30 UTC+02:00 | 113 km | 53% |
| Kavála, East Macedonia and Thrace | total | 2m 21s | 14:01:16 UTC+01:34 | 110 km | 24% |
| Menemen, İzmir | total | 2m 9s | 14:30:34 UTC+01:56 | 114 km | 10% |
| İzmir, İzmir | total | 2m 39s | 14:31:01 UTC+01:56 | 104 km | 10% |
| Kuşadası, Aydın | total | 3m 41s | 14:32:11 UTC+01:56 | 72 km | 9% |
| Torbalı, İzmir | total | 2m 49s | 14:31:44 UTC+01:56 | 100 km | 9% |
| Söke, Aydın | total | 3m 38s | 14:32:33 UTC+01:56 | 74 km | 5% |
| Aydın, Aydın | total | 2m 22s | 14:32:49 UTC+01:56 | 110 km | 7% |
| Ródos, South Aegean | total | 4m 14s | 14:13:48 UTC+01:34 | 34 km | 10% |
| Muğla, Muğla | total | 2m 49s | 14:34:33 UTC+01:56 | 100 km | 15% |
| Fethiye, Muğla | total | 2m 24s | 14:36:25 UTC+01:56 | 109 km | 17% |
| Fāraskūr, Damietta | total | 2m 30s | 14:52:05 UTC+02:00 | 106 km | 8% |
| Damietta, Damietta | total | 3m 0s | 14:52:01 UTC+02:00 | 92 km | 8% |
| Al Jamālīyah, Dakahlia | total | 2m 28s | 14:52:30 UTC+02:00 | 107 km | 11% |
| Al Manzilah, Dakahlia | total | 2m 36s | 14:52:37 UTC+02:00 | 103 km | 11% |
| Al Maţarīyah, Dakahlia | total | 2m 55s | 14:52:39 UTC+02:00 | 95 km | 8% |
| Ismailia, Ismailia | total | 1m 33s | 14:53:58 UTC+02:00 | 122 km | 1% |
| Port Said, Port Said | total | 3m 31s | 14:52:45 UTC+02:00 | 72 km | 17% |
| Arish, North Sinai | total | 4m 4s | 14:54:18 UTC+02:00 | 24 km | 2% |
| Shūkat aş Şūfī, Gaza Strip | total | 3m 32s | 14:54:29 UTC+02:00 | 68 km | 3% |
| An Naşr, Gaza Strip | total | 3m 29s | 14:54:27 UTC+02:00 | 71 km | 3% |
| Khān Yūnis, Gaza Strip | total | 3m 23s | 14:54:21 UTC+02:00 | 75 km | 3% |
| Khuzā'ah, Gaza Strip | total | 3m 21s | 14:54:27 UTC+02:00 | 77 km | 1% |
| Az Zuwāydah, Gaza Strip | total | 3m 4s | 14:54:13 UTC+02:00 | 88 km | 4% |
| Al Mughrāqah | total | 2m 57s | 14:54:12 UTC+02:00 | 92 km | 10% |
| Gaza, Gaza Strip | total | 2m 44s | 14:54:11 UTC+02:00 | 99 km | 5% |
| Ashqelon, Southern District | total | 1m 49s | 15:14:37 UTC+02:20 | 119 km | 7% |
| Netivot, Southern District | total | 2m 39s | 15:15:06 UTC+02:20 | 101 km | 2% |
| Ofaqim, Southern District | total | 2m 51s | 15:15:19 UTC+02:20 | 95 km | 1% |
| Qiryat Gat, Southern District | total | 1m 6s | 15:14:53 UTC+02:20 | 128 km | 2% |
| Beersheba, Southern District | total | 2m 35s | 15:15:35 UTC+02:20 | 103 km | 0% |
| Eilat, Southern District | total | 4m 2s | 15:18:52 UTC+02:20 | 16 km | 4% |
| Az̧ Z̧āhirīyah, West Bank | total | 1m 10s | 14:54:46 UTC+02:00 | 127 km | 0% |
| Aqaba, Aqaba | total | 4m 3s | 15:22:03 UTC+02:23 | 14 km | 12% |
| Dimona, Southern District | total | 2m 28s | 15:16:07 UTC+02:20 | 106 km | 0% |
| 'Arad, Southern District | total | 16s | 15:15:55 UTC+02:20 | 133 km | 0% |
| Al Quwayrah, Ma'an | total | 3m 58s | 15:21:47 UTC+02:23 | 28 km | 2% |
| Petra, Ma'an | total | 3m 14s | 15:20:57 UTC+02:23 | 80 km | 0% |
| Aţ Ţafīlah, Tafielah | total | 1m 6s | 15:20:05 UTC+02:23 | 128 km | 1% |
| Buşayrā, Tafielah | total | 1m 43s | 15:20:17 UTC+02:23 | 120 km | 0% |
| Ma'an, Ma'an | total | 3m 2s | 15:21:23 UTC+02:23 | 88 km | 0% |
| Tabuk, Tabuk | total | 3m 59s | 16:08:29 UTC+03:06 | 7 km | 10% |
| Al 'Ulá, Al Madīnah al Munawwarah | total | 3m 42s | 16:12:43 UTC+03:06 | 43 km | 10% |
| Sulţānah, Al Madīnah al Munawwarah | total | 2m 23s | 16:17:33 UTC+03:06 | 102 km | 8% |
| Medina, Al Madīnah al Munawwarah | total | 2m 23s | 16:17:37 UTC+03:06 | 102 km | 8% |
| 'Afīf, Ar Riyāḑ | total | 3m 4s | 16:20:28 UTC+03:06 | 71 km | 25% |
| As Sulayyil, Ar Riyāḑ | total | 3m 5s | 16:27:21 UTC+03:06 | 59 km | 11% |
| Al Ghayz̧ah, Al Mahrah | total | 2m 35s | 16:35:37 UTC+03:06 | 70 km | 55% |
| Şalālah, Z̧ufār | total | 1m 21s | 17:09:08 UTC+03:41 | 110 km | 96% |